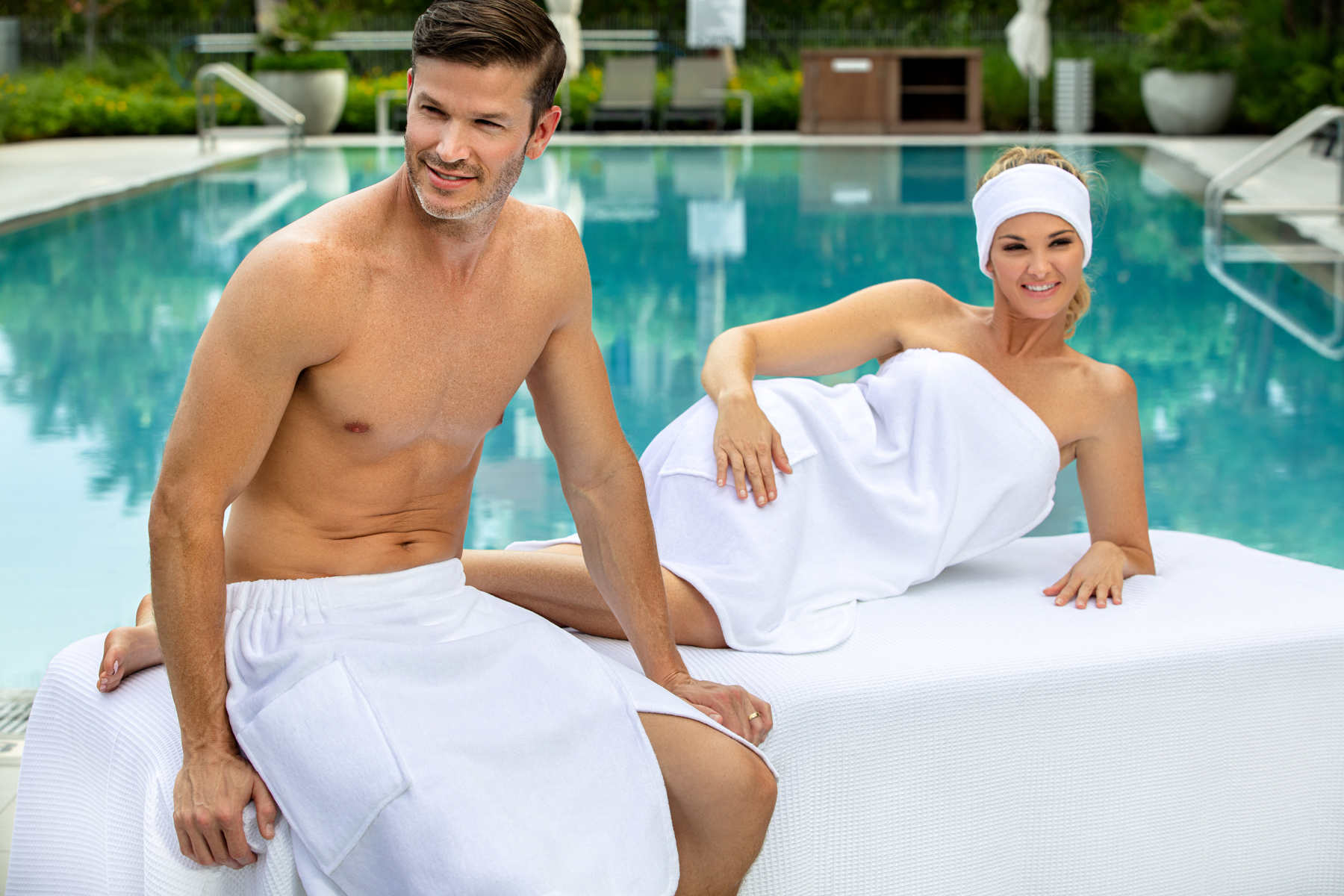 Use this checklist to make sure your spa is well-equipped with a full array of durable products that will pamper your guests. Order the tried-and-true items Boca Terry keeps in stock, or custom-order merchandise with special engravings, colors and/or materials.
Robes Choose from two dozen varieties including terry, waffle and microfiber — even kid sizes for the youngest guests. You might want separate sets for warm and chilly weather, salt therapy and thermal bath complexes.
Wraps These simpler cover-ups, sans sleeves, allow guests to warm up quickly. Choose waist wraps for men, full-body versions for women.
Slippers Open- or closed-toe options, with or without Velcro, provide disposable or reusable footwear for guests to wear from the moment they trade in their street-wear for spa gear.
Locker room and restroom towels Locker rooms require towels of several size for use after handwashing and pre-treatment showering as well as for after aromatherapy wellness baths and scented experience showers.
• Bath towels or bath sheets
• Bath mats
• Hand towels
• Washcloths
• Pique hand towels are ideal for restroom sinks. They make a statement of quality yet are easy to maintain.
Lounge Chair Covers Keep chaises fresh and clean by replacing toppers regularly, whether fitted, hemmed or a combo.
Treatment Room Necessities You'll need extras big and small, depending on the extent of your services.
• Facial towels
• Headbands
• Paraffin mitts and booties
• Salon hairstylist towels
• Mani-pedi towels
• Massage/facial table linens
– Flat sheets
– Fitted sheets
– Blankets
– Face cradle covers
Fitness Towels Extra-absorbent, lightweight towels are a must for every fitness center.
Embroidery Reinforce your brand by having your logo embroidered into robes, wraps, towels and accessories. Purchase extra, because guests will buy these items to take home.