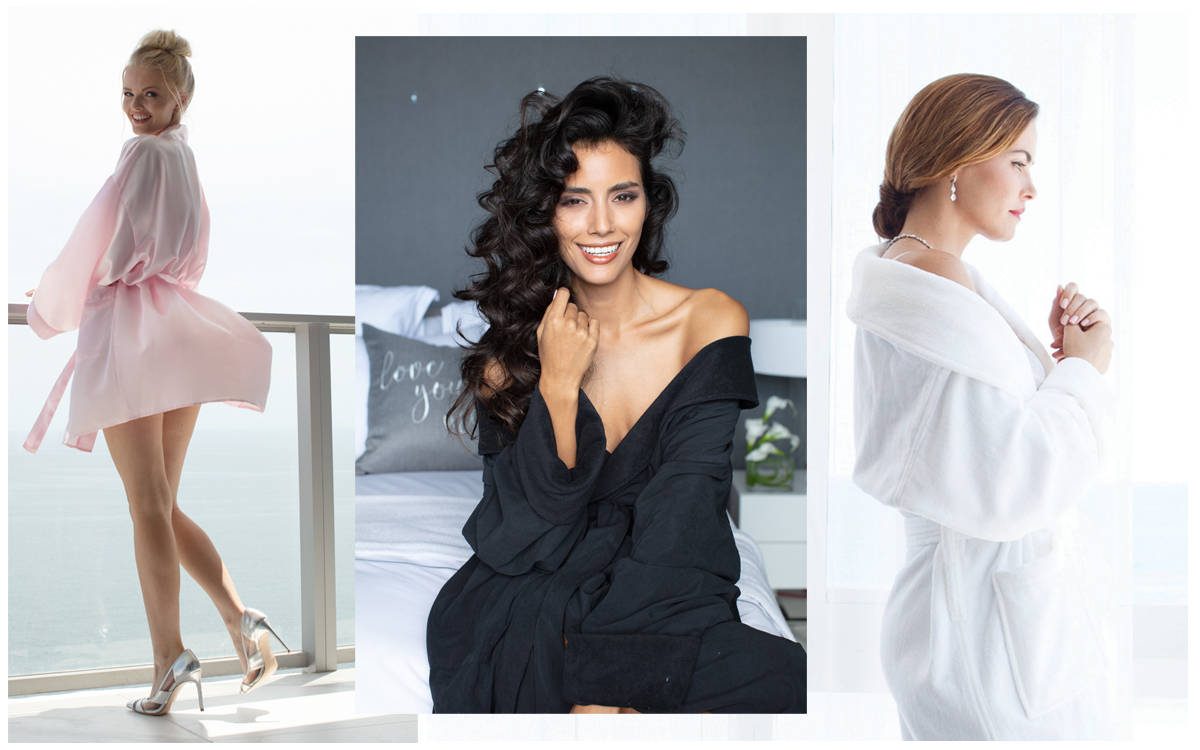 Your "Big Day Prep" shots will be some of the most candid and cherished photos from your wedding day. And while there's no shortage of signature Boca Terry robes for your bridesmaids to get ready in, it can be a bit more challenging to find the right thing to wrap yourself in while you get your hair and makeup done. That's why we've taken it upon ourselves to round up the best bridal robes, below—so no matter what style you're looking for, be it lace or silk, white, velour or chamois you'll look picture perfect.
We'll kick things off with the…
The Best Luxury Bathrobes for Your Wedding Day
Satin Kimono
Start your morning and end your day in this silky, remarkably airy, undeniably feminine Satin Kimono robe — the perfect excuse to feel pampered, playful and sexy in your hotel suite.
Seersucker
The quintessential summer fabric, seersucker is a legend among linens that is both elegant and effortless. Characterized by woven, self-coloured stripes, the classically styled, highly durable Seersucker robe is available all year round in both white and ecru.
Velour Stripe Bathrobe
Indulge in this silky, sophisticated, 100% combed cotton Velour Stripe Robe, the perfect choice for morning or evening-wear, featuring a one-inch vertical stripe pattern and classic roll-up collar and cuffs.
Knit Diamond Bathrobe
REIGN OVER IT ALL Accentuated by a woven pattern, this cool-in-all-seasons robe resists every wrinkle. Own the oceanfront in the Waffle Large Knit Diamond Robe.
Micro Chamois Bathrobe
Staying in is the only option in this velvety, ultra-soft Chamois Microfiber Bathrobe. Simultaneously lightweight and warm, remarkably soft but also highly durable, the Micro Chamois robe is available in both shawl collar and traditional kimono styles.
Microfiber with Plush Lining
No spa or pool outing is complete without the casual but elegant Microfiber Bathrobe, featuring plush microterry lining and roll-up collar and cuffs. The new standard for high-end hotels and resorts worldwide, the microfiber robe is available in white and ecru.
Microterry Bathrobe
Whether you're looking to warm up or cuddle up, the ever-so-elegant, luxuriously fluffy microterry material is the answer. Made from 100% polyester, the Microterry Bathrobe is softer than cotton and is available in both the Shawl Collar and Kimono styles.
Mini Stripe Bathrobe
Envelop yourself in this warm, textured Mini Stripe Bathrobe, made from plush 100% combed cotton, featuring a unique, understated pattern with alternating 1/4" stripes and cord edge piping.
Interested in learning more about how your company or organization can offer top quality bathrobes, spa accessories, or towels with your branded logo and/or custom design? Speak to one of our helpful representatives today to understand why we are one of the top providers to some of the largest brands in the world.