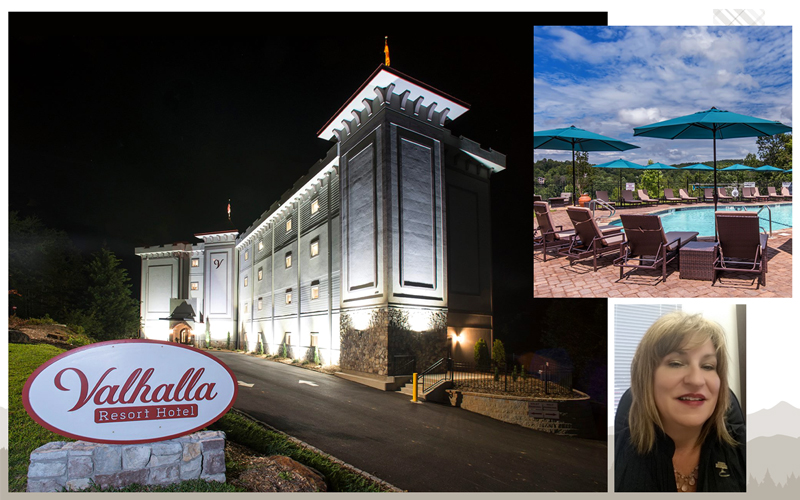 Background on the Valhalla Resort Hotel
The Valhalla Resort Hotel is a one-of-a-kind luxury resort that is reminiscent of an Old World Scottish Castle.  Surrounded by breathtaking scenic views of the North Georgia Mountains, Valhalla is an all-suite hotel with rustic-contemporary design featuring world-class dining, golf, the roof-top Sky Bar, the Solasta Spa & pool.
Interview with Irene Bynum-Faith from Valhalla Resort Hotel:
Boca Terry (BT): Can you tell us about your company/property? What makes it unique?
Irene Bynum-Faith (IBF): Valhalla Resort Hotel and Solasta Spa are unique to the Northeast Georgia area as there is nothing like us within a 100-mile radius of Atlanta.  We are less than 2 hours from Atlanta, Georgia and once our guests arrive, they are surrounded by nothing but beautiful mountain views and clean air.  We are situated right in the middle of the Georgia Wine Highway and our guests enjoy touring the many unique award-winning wineries during their stay.  Our hotel and spa are "boutique" style and very intimate.  We cater to our guests every need and the big plus is we are an adult only property.
Boca Terry (BT): Can you please describe your typical day at work? What does your role entail?
Irene Bynum-Faith (IBF): My role as Spa Director is to ensure that our guest experience is supreme.  I schedule all staffing to fit the requests of our guests.  I strive to make sure that all amenities are accessible and up to the client's expectations.  I design all service protocols so that our guests receive custom and luxurious services by some of the best therapists in our area.
Boca Terry (BT): How do you create a sense of community for your guests/employees?
Irene Bynum-Faith (IBF): Because we are a small, intimate boutique spa, we don't have the "pretentious" atmosphere that some spas are famous for.  Our guests feel right at home and relaxed as we want them to feel comfortable and at ease.  I find that new spa goers are usually anxious when arriving and I want our atmosphere to put them at ease so they can enjoy their experience whether it is their first time in a spa or the 100th time!  This spills over to the staff who take ownership in creating the experience and are an integral role in the success of our spa.  This makes for happy employees!
Boca Terry( BT): Which Boca Terry products do you use in your establishment?
Irene Bynum-Faith (IBF): We supply our dressing rooms with Boca Terry waffle weave robes and slippers. The guests feel very pampered in them and we like them because we know guests feel they get the coverage that other, flimsy robes don't offer. The hotel also stocks our guest rooms with robes and the terry slippers. When scheduling appointments for hotel guests, I often invite them to wear their robe and slippers to the spa and the simply love the suggestion. I have had many a guest tell me how luxurious and decadent they feel wearing robes on the elevator down to the SPA level.
Boca Terry (BT): Would you recommend Boca Terry products to others? Why?
Irene Bynum-Faith (IBF): Boca Terry robes and slippers offer us a quality that is affordable and economical, and they hold up and are durable after many, many washings.  We can launder the robes several times in a day and fold them and they still look and feel like new.
Interested in learning more about how your company or organization can offer top quality bathrobes, spa accessories, or towels with your branded logo and/or custom design? Speak to one of our helpful representatives today to understand why we are one of the top providers to some of the largest brands in the world.