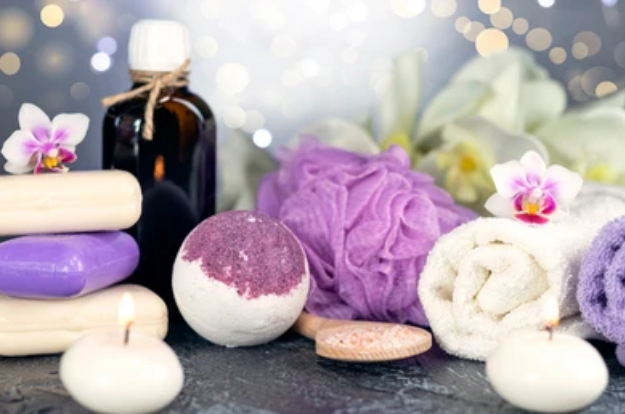 If you are lucky enough to have a beautiful luxurious backyard why not turn it into your own spa? Turning your backyard into a luxurious paradise for you and your family to enjoy this summer can be a great way to utilize your backyard space.
When it comes to some of the best backyard spa accessories it is vital that you choose what is right for you. A must-have in your backyard is a hot tub if you have space for it. When creating your all-around spa experience in your backyard you may want to consider hotel spa slippers and facial headbands. Boca Terry has the most elegant spa accessories of all time for you and your family to enjoy.
With summer just around the corner, there is no better time to transform your backyard into a spa. When preparing your backyard to turn into a spa there are a few must-haves every family needs. Whether it's a hot tub, fireplace, or mini-fridge, or anything and everything one may need to do facials. Such as facial headbands, essential oils, and a hydrating face mask.
Let's dive into some of the best backyard spa accessories of all time to ensure that you feel like you are living your life of luxury when in fact you are just in your backyard. 
Must-Haves for Your Hot Tub
Well, the first must-have for your backyard spa is a hot tub. When it comes to having a hot tub there are few things that one should really have. The first includes the hot tub cover. This will ensure that your hot tub stays clean and heated over time.
The next is hot tub steps. Including steps on the hot tub will prevent people from falling or slipping over time. Many hot tub steps even come with towel storage. If you are looking for those perfect spa towels Boca Terry has a wide range of beautiful spa towels as well as facial headbands to create that spa experience at home.
Finally, a must-have for your hot tub is a spa pillow. Hot tubs can be very relaxing after a long day. However, the design of a hot tub is not always the most comfortable. This is why a spa pillow is great for ensuring comfort while you are relaxing.
Hot Tub Refreshment Float
Now, how amazing does this sound, a hot tub refreshment float? A float to hold all of your favorite snacks and drinks so you can easily serve food and drinks while in the comfort of your hot tub.
Side Umbrella
If you feel that you are getting a little too much sun while you're soaking it up in your hot tub, try adding an umbrella to give you an extra bit of shade. These are great for the summer when the sun becomes a little too hot to handle. 
A Towel Warmer
The worst part about getting out of the hot tub is getting cold. The warmer the towel is the more comfortable you will feel when getting out. That is why a towel warmer is essential for that at-home spa experience.
Exterior Lighting
Outside lighting is especially important for your backyard. This not only improves the overall aesthetic and look of your backyard but can improve overall safety.
Mini Fridge
Picture this in your head, relaxing outside of your hot tub or by the fire pit and you are craving a delicious beverage. Do you want to walk all the way inside to grab a drink or would you rather stay outside and grab one from your mini-fridge?  
When you get up from the hot tub or outside you want your feet to be warm and comfortable. That is why wearing hotel spa slippers is a great added bonus.
Firepit
Fire pits are elegant, classy, and perfect for any backyard. Having a fire pit is any homeowner's dream. They're perfect for staying warm in the winter and having friends and family gather around on a cold night.
Outdoor Shower
Outdoor showers are perfect for turning your backyard into the best spa of all time. Not only do outdoor showers look really nice, they're also very practical. They're great for when someone just wants to rinse off really quick before heading inside to get all the chlorine off of them from the pool or hot tub.
After one has rinsed off in the shower chances are they want to wrap themselves up in a nice cozy towel or robe. Boca Terry has a wide selection of comfortable spa equivalent towels and robes. They are even customizable and can be embroidered with your own initials or name on them.
Wireless Speakers
When creating the ambiance and feel of an outdoor spa in your backyard why not add some relaxing music. Wireless speakers are a convenient and functional way to play music outside. Outdoor speakers can be mounted to your walls or portable. 
With all the recent technology they are durable even under the harshest of elements including wind, rain, snow, and sun. 
A Personal Heater
In the winter months, you may find it can almost be unbearable to want to be outside even in the comfort of your own hot tub. That is why a personal or portable heater is essential for those colder months. Personal heaters can also be great for adding to the overall feeling of the spa experience.
Wireless TV Monitor
A wireless TV is a great addition to your hot tub. This will allow you to relax and watch your favorite TV show all in the comfort of your own personal hot tub.
Overall when it comes to creating the best backyard of all time, it all depends on what kind of experience you want. When looking to purchase all of your favorite outdoor spa accessories such as hotel spa slippers, robes, and towels, Boca Terry has you covered.
There is a wide range of spa accessories that you can add to your backyard to make it feel like your own personal at-home spa. At-homesSpas can be a perfect way to get all of the family involved together in a relaxing environment.